<! link="#" alink="#" vlink="#" text="#">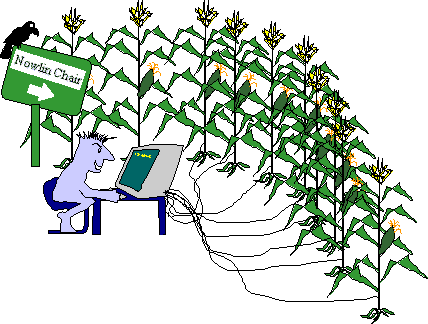 Homer Nowlin Chair
This is an archival version of the Nowlin Chair web page from when Dr. Joe Ritchie was the Nowlin Chair professor (1984-2000). Return to the the main Nowlin Chair web site.
The Homer Nowlin Chair is an endowed chair in the College of Agriculture and Natural Resources at Michigan State University. Our focus is on water quality issues in Michigan. To increase our understanding in these issues we have used and developed several crop and soil simulation models. Primarily we have used and modified the CERES family of cereal models and we are now developing the SALUS (System Approach to Land Use Sustainability) model.
People
Some of the people that are currently working in our group:
---
DSSAT variables
Below are three lists of variables for the CERES and CropGro programs. They were compiled by a number of users of these models. These lists are certainly not complete and probably incorrect in some cases. They are provided as a guide and not as authoritative listings.
---
Software
Software developed by the group:
---
Data
Data collected or used by the group:
---
Publications
In house publications:
---
Irrigation Conference
In November, 2000 the Nowlin Chair held a conference on the future of irrigation in Michigan. Click here for more information
---
Modelling Conference
On 10-11 November, 2000 the Nowlin Chair held a conference on crop and soil modelling in Detroit Michigan. Click here for more information
---
Other Groups
Modeling is complex, multidisciplinary endeavor in which we work with a number great groups and indivduals around the world. Some of these groups and people are:





The Crop Systems Modeling Group, Agricultural and Biological Engineering Department, University of Florida
Dr. Gerrit Hoogenboom The University of Georgia Department of Biological and Agricultural Engineering
Crop Models in Research and Practice, a symposium honoring Joe Ritchie, was held during the American Society of Agronomy (ASA)Annual Meeting, Novemeber 2000
---
Go to the Department of Plant, Soil and Microbial Sciences page
Go to the Michigan State University home page
---


---
Homer Nowlin Chair Group - E-mail the webmaster